An alternative guide to Edinburgh
When you visit a city for the first time it is very likely that you want to see the main places, streets, monuments or churches. Let's say: the things that appear in every tourist guide. However, if there is something that can make you feel like home is knowing the real charm of the city by visiting the places that are beyond the best-known ones. This time, I'm going to show you which these places in Edinburgh are!
Holyrood Park
Address: Queen's Drive, Edinburgh
Access: 24h
Price: free.
The Holyrood Park was the hunting estate for royal people in Edinburgh several years ago and the Holyrood Palace is almost at its foot. The park has around 3km2 of hills, lochs (lakes, in Scottish) and a diversity of plants, flowers and rocks. Apart from the different walking trails that it offers, there are 3 interesting places that worth visiting here:
Arthur's Seat. This is the highest point in the park and also in Edinburgh with a maximum height of 251m. It is just in the center of the park and you can choose between many paths to get there. It depends on how much effort you want to do! All of them are quite easy and accessible to any level so you don't need to be in very good shape. However, I highly suggest to wear comfortable clothes and shoes. Arthur's Seat offers a beautiful and complete view of the whole city, including the Edinburgh Castle or Calton Hill.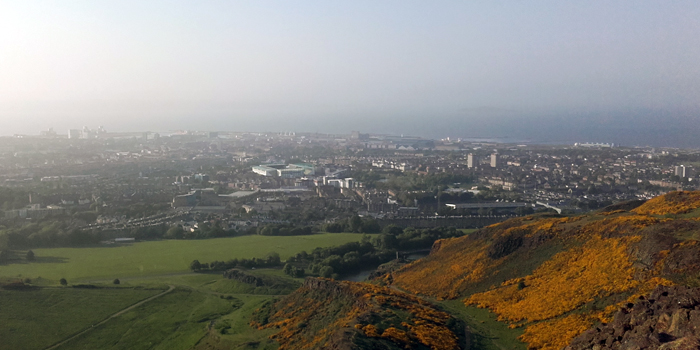 St Anthony's Chapel. This is the only building in the park and it stands on a rocky hillock above St Margaret's Loch. During its age it was a religious building but today you can only see some remains of what once were the north wall and a bit of the south side of the chapel. It is easy to arrive here and it seems like you can find more remains around the chapel if you observe it in more detail… 
"Lochs" (Lakes). There are 3 lakes in Holyrood Park: St Margaret's Loch, Dunsapie Loch and Duddingston Loch. The first one is the best-known and it was used for navigators. Today, it is the home for a big population of ducks, geese and swans. I took this picture after coming down from St Anthony's Chapel, which you can see on the top of the hill.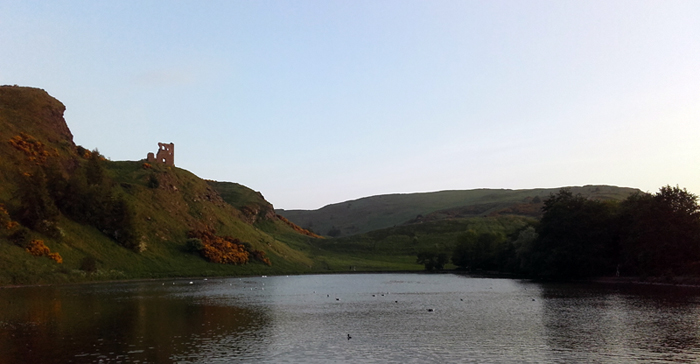 The Elephant House
Address: 21 George IV Bridge, Edinburgh
Access: Monday to Thursday from 8h-22h; Friday from 8-23h; Saturday from 9-23h; and Sunday from 9-22h.
Price: Around £10-15 (12-18€).
Did you know that J.K. Rowling wrote most of the Harry Potter's saga in Edinburgh? She used to sit in the back room of The Elephant House, a tea and coffee house located in George IV Bridge. This privileged place overlooking Edinburgh Castle gave her inspiration to write the best-selling novels and now people from all over the world come to visit it. The Elephant House offers a diversity of menus so you can either go for breakfast or lunch. The fist time I went, I ordered Haggis for lunch (an Scottish traditional food) and the second time an Scottish typical breakfast (good but expensive in my opinion).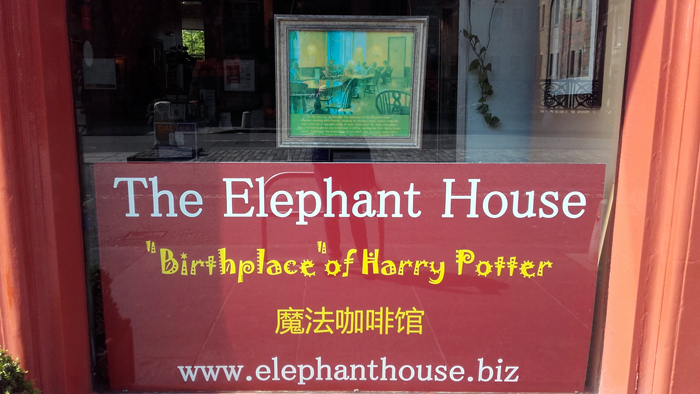 Take an special look at the bathrooms! There are phrases and notes from Harry Potter fans in every single corner. Employees in the coffee shop tried to cover up this paintings but every time a Harry Potter fan came to this place, he left his note. Therefore they gave up!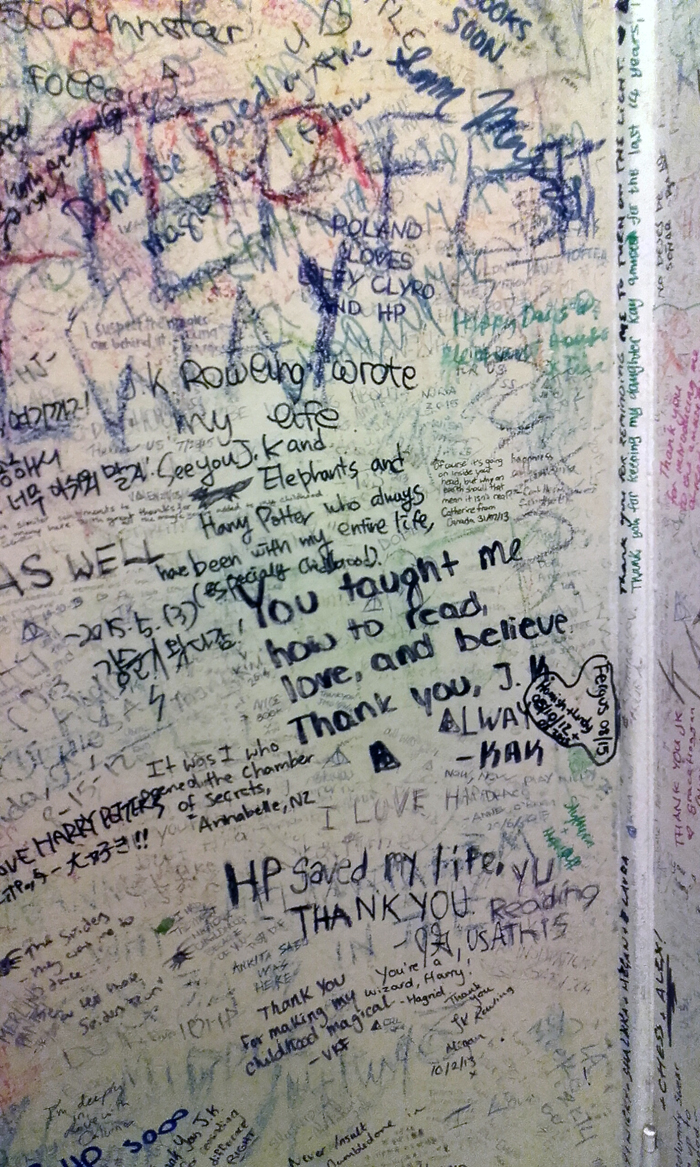 Balmoral Hotel
Address: 1 Princes St, Edinburgh
Access: 24h.
Price: A night in J.K. Rowling's hotel room can cost around £1000 (1200€).
Continuing with Harry Potter, in 2007 J.K. Rowling left a note at the Balmoral Hotel that said: "J.K. Rowling finished writing Harry Potter and the Deathly Hallows in this room (552) on 11th Jan 2007". She finished the saga at this hotel. Nowadays and due to its history, this is one of Scotland's most luxurious ones and not so long ago the author gave permission to rename it "the J.K. Rowling Suite".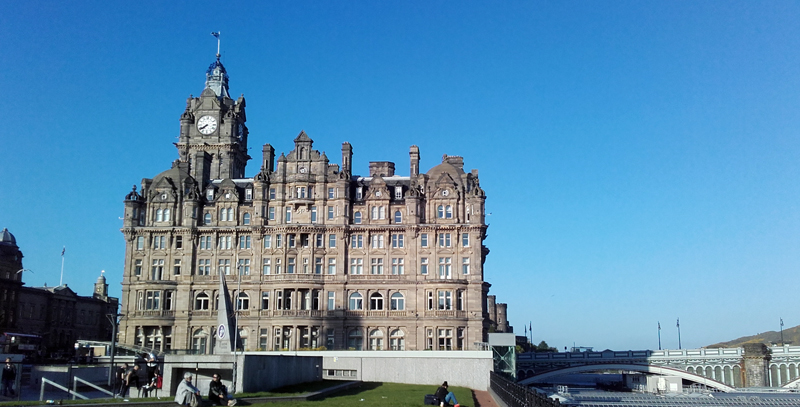 Mary King's Close

Address: 2 Warriston's Close, High St, Edinburgh
Access: Opened from November until March from 10- 17h (except Fridays and Saturdays, which is until 21h); from April to June from 10-21h; and in August from 9-23h.
Price: Adult £14.50 (17€); Senior (60+) and Students (with valid student ID) £12.75 (15€); Child (5 – 15 years) £8.75 (11€); Family (2 Adult + 2 Children) £39.95 (48€).
Edinburgh has plenty of tours to do: the ghost tour, the city tour… but if there is one that really worth it is Mary King's Close, an underground historic tour. This alley is situated in a narrow street in front of the St Giles Cathedral and down the buildings in the Royal Mile and shows the streets and rooms where people lived surrounded by illness, plagues and poor conditions during the XVI and XVII centuries. These streets are all underground and the city we know today was built above it. You can only visit this Close with a guide but not on your own.
Contrary of what people say, it is not a scary tour. However, after visiting some of the rooms and hearing the terrible stories of the most popular citizens that once lived in Mary King's Close, you probably will visit Annie's place, a little girl that lost her doll and cried and cried hundreds of years ago… Visitors leave toys and sweets to comfort her so she will stop wandering around the allies… And that are given as donations to the kids that need them the most.
Apart from Mary King's Close, all the Royal Mile has a lot of narrow streets (or "closes") that lead you to small squares or neighbourhoods.
Although you can't take pictures during the tour, these are a couple of examples of what a close looks like nowadays: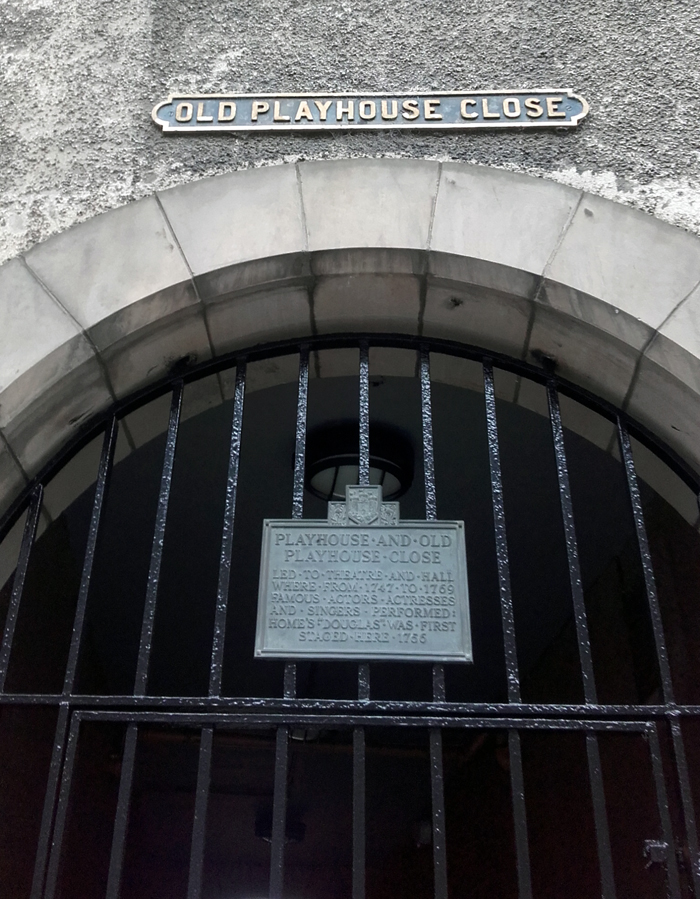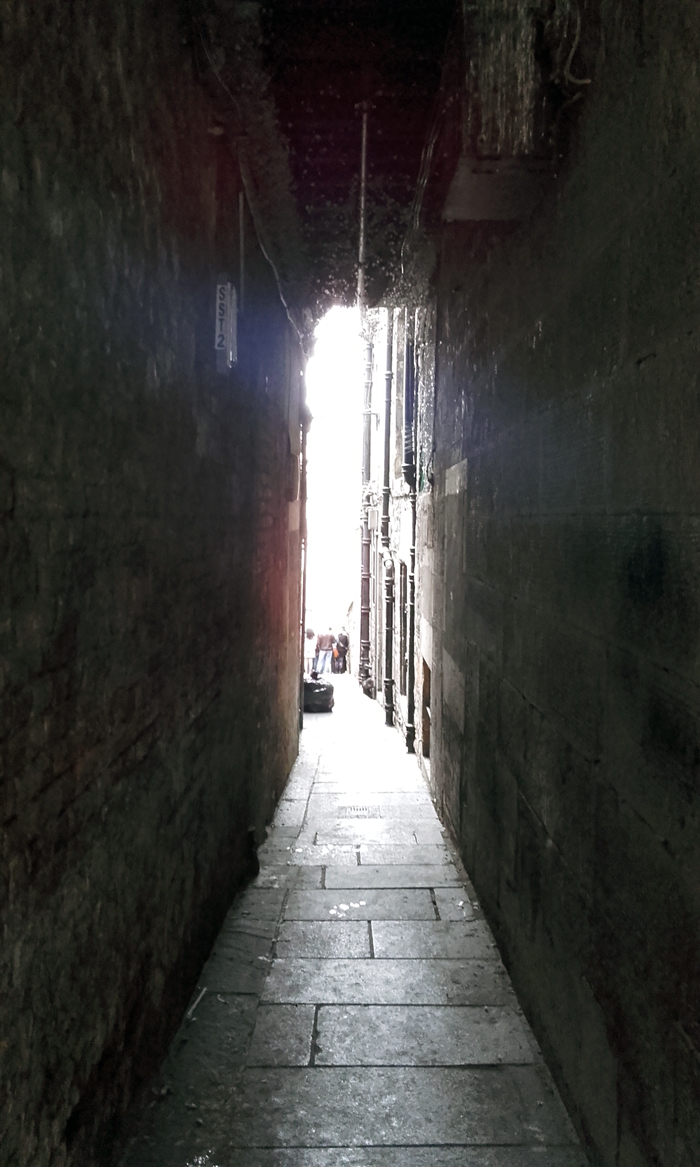 The Meadows
Address: Melville Drive, Edinburgh
Access: 24h.
Price: free.
I wouldn't have known this park if it wasn't because it was on my way to the apartment. It is in the south of Edinburgh, bordered by many campus of the universities. It is a big open grassland crossed by three paths and locals know how to take the most out of it: they celebrate many events and holidays there and they have established a children's playground, a croquet club and many other activities. It is probably one of the best places to have lunch, meet friends and relax in Edinburgh!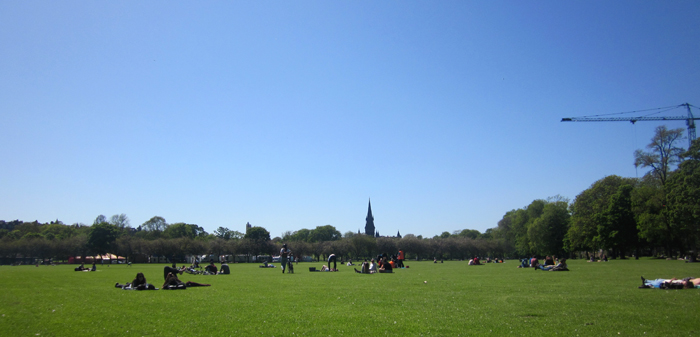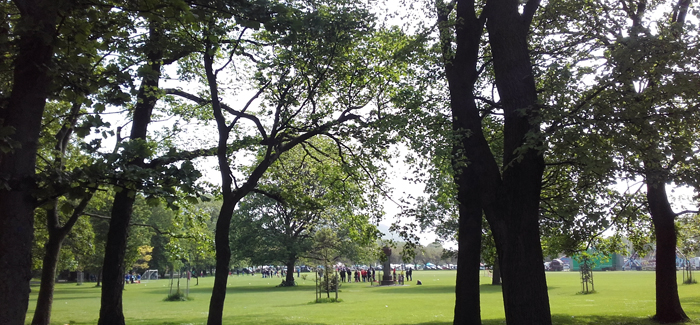 Old Calton Burial Ground
Address: 27 Waterloo Place, Edinburgh
Access: 24h.
Price: free.
There are many cemeteries in Edinburgh that hide curious stories and legends behind them… And this one is not an exception!
The Old Calton Burial Ground is at Calton Hill and is famous because there we can find David Hume's tomb, the best-known Scottish philosopher (who also has an sculpture in the Royal Mile) as well as other honored people's tombs.
It is also known because during the XVIII century many people were buried alive. They were taken for dead when they entered a state of catalepsy. During this age, people who didn't move or show any kind of stimulus was "clearly dead" and therefore they had to be buried. But the legend says that many tombs had marks from bumps and scratches on the cover so many of these people actually died by asphyxiation.
Another visited tomb is David Allan's, who was one of these cases of people buried alive. It is said that in the back of the headstone you can see the Death's face…
Gardeners work on the maintenance of the burial ground during the day. Even if a lot of tombs are in poor condition (broken, torn soil…), the cemetery is well-preserved and keeps the style and structure of its beginnings. However, no more burials are done here since the end of the XIX century.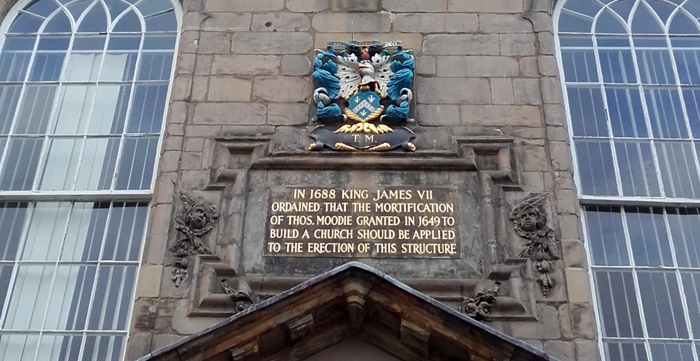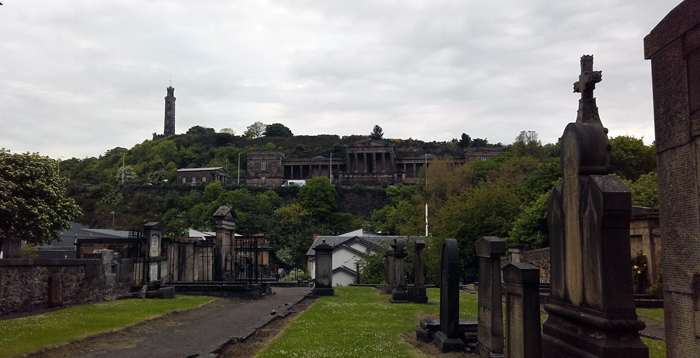 Canongate Kirkyard & Church
Address: 153 Canongate, Edinburgh
Access: 24h.
Price: free.
While the previous cemetery is known because of its legends, the Canongate burial ground is the final resting place of important people from the Burgh's past. Actually, you can see a board at the entrance with the list of the most famous ones. It is in better conditions and has over 352 headstones, monuments, tombs and other structures.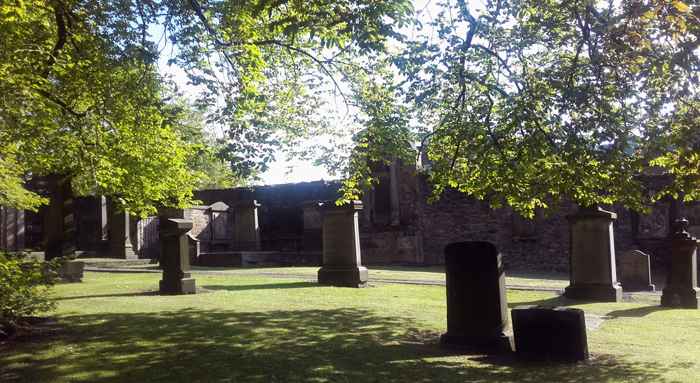 Queen Street Gardens
Addres: Queen Street Gardens, Heriot Row, Edinburgh
Access: only residents.
Price: –
Even if we couldn't visit it from the inside, I found curious to see a private huge garden in the middle of Edinburgh. You can't enter unless you have a key, but not any key: you need to apply for it and get an special residence permission to enter the park. The Queen Street Gardens are almost as large as the Princess Street Gardens (which were once private too). We surrounded the park to see if there was another entry for visitors but it was completely fenced. This is barely all we could see…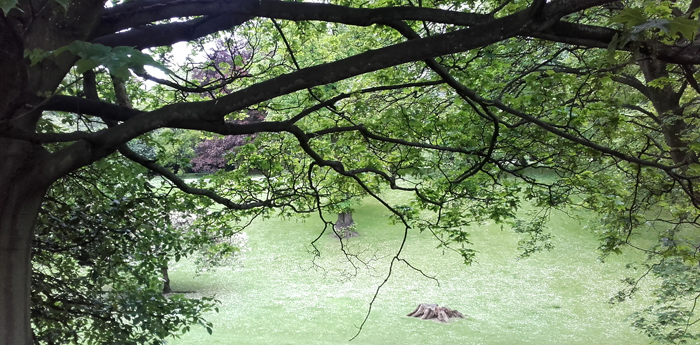 Note: Visiting one place or another depends on which your interests are. In my case, I prefer nature and open spaces more than museums or churches so this alternative list of places can be a bit subjective. I invite you to share with us more alternative places you have visited in Edinburgh! 🙂
… And if you haven't gone yet, take a look at the places that you can't miss in your trip to the Scottish capital here!
¿Te ha gustado este post? ¡Compártelo! 🙂