Discovering the cheapest side of Oslo
This year I decided that I wanted to travel once per month and my last destination was Oslo, the beautiful and enchanting Norwegian capital city. I was already aware that Norway is one of the most expensive countries in the world but I managed with some tips that made my trip cheaper without giving up doing or seeing anything. If you also want to turn an apparently expensive trip into a cheaper one… take note of the following tips below!
Book flights in advance
It is common knowledge that the closer the date is, the most expensive the flight will be. Prices also depend on the season (summer months are more expensive) and whether there is a holiday during that period. In my case, after trying many flight combinations, I booked my tickets to Oslo 3 months in advance and between two Holiday weekends, so I got them considerably cheaper compared to the weeks before and after.
Choose affordable accommodation
Make sure which your preferences are while choosing accomodation. Do you prefer being alone and relaxed? Or meeting new people? Which is the Quality/Price relation of the room you like? Is it close to the city center or will you have to depend on public transport? In Oslo, Airbnb's rooms usually cost around 500 NOK (55€) per night but sharing a bedroom with other guests in a hostel seems to be the cheapest option if you book it in advance.
Purchase tickets online
Tickets for public transport and museums are cheaper if you purchase them online. It helps you save some time, too! On the contrary, purchasing the tickets on board seems to be the most expensive option. Don't forget that transactions may be in Norwegian crowns so I suggest checking first if your bank is going to charge you an extra fee for the change of coin.
Find out about discounts
Before buying a standard ticket, take a look at the company's website in order to see if there is a discount that applies to your situation. Discounts for senior, children, students or youth under 25 years old are very common in Norway. You can find discounts in bus companies, NSB trains, museums and the Oslo Pass.
Example: if you have a student card you can purchase the bus tickets to or from the airport for 70 NOK (7,50€) instead of 140 NOK (15€).
Important! Some foreign student cards are not valid to get the discount for trains and buses. You need to have the ISIC (International Student Identity Card). Usually they don't ask you to show your ID but it is better not to take any risks.
Get the Oslo Pass
The Oslo Pass gives you free access to all public transport (tram, buses, ferry, metro…) in zones 1 and 2 as well as free entrance to all the museums. There are passes for 24, 48 or 72 hours with discounts for students, children and seniors. The Oslo Pass for 48h costs 490 NOK (53€), and 390 NOK (42€) with discount. If you want to visit many museums and visit places that are not in the city center it is worth buying. When you're given the Pass you have to write the date and hour of the first use, so if you manage well you can get the most of it.
Some tips for the Oslo Pass:
Visit all the

free attractions and zones where you can go on foot first

. Afterwards you can purchase the Oslo Pass and go to all the museums and places where you need to take public transport.

If you're planning to go to any city in the nearby, like Drøbak, with the Oslo Pass you just have to pay for the 3rd zone, which are 40 NOK (4,5€) instead of 90 NOK (10€).
Join free tours
There is a free tour that starts at 10:00h everyday and also at 16:00h on weekends. The tour is in English and has a duration of 90 minutes. It starts at the Tiger statue outside Oslo Central Station and it is a good option if you want to know the main places of the city directly by local people as well as meeting other travelers.
Visit free museums
There are some attractions and museums that have a free entrance all year round. For example, the Akershus Fortress, the Armed Forces museum, the Film museum, Intercultural museum or the Vigeland Sculpture park. There are also some specific days when admission to some attractions or exhibitions are free too.
Enjoy the Oslo fjord on your own
You can't leave Oslo without visiting the fjord! There are two options: taking the 2-hour sightseeing boat tour or taking a ferry on your own and go island hopping. The sightseeing boat is 285 NOK (31€) or 228 NOK (25€) with the Oslo Pass. The local ferry is already included in the Pass and in regular transport tickets (and you can get on and off the boat whenever you want!).
Tip! The ferry picks and leaves people in Hovedøya island every half an hour. One ferry goes back to the city center and the other one continues to the other islands. I recommend seeing Hovedøya (the biggest island) and then taking the ferry and enjoying the whole trip to see all the islands in the Oslo fjord.
Compare public transport fares
In Oslo, public transport fares vary depending on the kind of ticket you are going to purchase, the distance (zone 1, 2…) and if you can apply any discount. For example, these are the discounts for the train: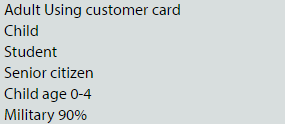 And these ones for the Flybussen airport bus: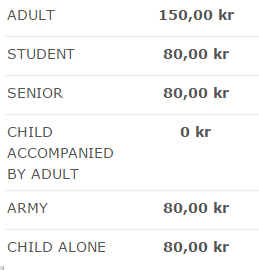 Trains have the "Minipris" option, which means that you can buy tickets for a lower price but you can't take a different train (they aren't exchangeable nor refundable).
There is also a difference between normal buses (the red ones) and Express buses (the green ones). Express buses are faster but more expensive. For example, if you want to visit Drøbak, you can either take the bus 500 or the 500E (Express). The first one takes 1 hour and the second one 40 minutes. In the normal bus, the trip costs 72 NOK (8€) if you purchase the ticket in advance, 90 NOK (10€) on board and 40 NOK (4,5€) with the Oslo Pass, as you only have to pay for the 3rd zone.
Buy in supermarkets
In terms of food, Oslo is very expensive whether you buy in the supermarket (the cheapest option) or eat outside. The average price of a standard menu in a restaurant costs more than 400 NOK (43€), a kebab and a bottle of water 150 NOK (16€), and one glass of beer in a pub 80 NOK (8,5€). Even though prices are also higher in the supermarket, this option is more affordable if you are low on budget.
Choose the best paying option
This is a very common and complicated question. The main factor to consider is how much commission your bank is going to charge you for the change of coin. It is very likely that you will have to pay an extra charge whether you request crowns or pay with credit card. The second one is having a look at the value of the currency in that moment and then compare which option gives you the best change.
And the last but not less important…
Ask!
Norwegian people are very friendly! Contrary to what people say, they are very kind, outgoing and always available to lend you a hand you when you need it. Don't be shy and talk to locals to get the most of your trip!
If you have already made your choice and want to plan your trip to Oslo, check out this list of places that you should not miss!
¿Te ha gustado este post? ¡Compártelo! 🙂