How I planned and organized my trip to Peru (I)
Next month I will be traveling to Perú, the beautiful Inca country in South-America. This will be my longest travel until the date and I'm very excited about it! Planning a trip like this is not easy, especially because it requires A LOT of patience. Even more if it's the first time you do it! In the next posts I will share with you which our idea of the trip is, and which things we have already booked and organized. I'm curious about comparing it with the real one once we come back. So…
Perú, here we go!
I'll be traveling with my best friend, who also happens to be my traveling partner. The trip will start in October and will have a duration of 3 weeks. It will be low season so hopefully it won't be too crowded. The weather seems to be good as well, without "extreme" temperatures. While we were looking for useful information about the country, we realized that the climate is totally different depending on which part of the country you are. For example, the city of Cusco is situated at the mountains so we need to be prepared for a cold weather. However, Lima is in the coast, so probably it will be sunny and warm. 
Due to its history and legacy, the variety of places to visit in Perú are infinite! Unfortunately, holidays are not unlimited so we decided to focus only in the South of the country. Our first intention was doing a round-trip through all the country but it was impossible. First, because you need to find adequate transport combinations (which are scarce); and second, because we prefer to take the most out of each place rather than to see everything too quickly. It is such a pity we have to sacrifice the North area of the country but we are sure the South will be worth it as well!
First step: the flights
The airport of Lima is the only international one in Perú, so wherever you want to start your trip, you will always have to start it from here. Having said that, we will fly from Barcelona to Madrid first, and then we will take the second flight to Lima. The airline is Air Europa. Prices usually go from 500€ to 1500€ and you can choose between connections (there are not direct flights from Barcelona, where I live). I recommend taking a look at the Skyscanner website, where you can see all the information about the different flight options. Our cheapest option was doing the connection in Bogotá (Colombia), but we finally decided to do it in Madrid (practical reasons…).
If everything goes as planned, this is our route. We will start and end in Lima, doing a round-trip to the South of the country: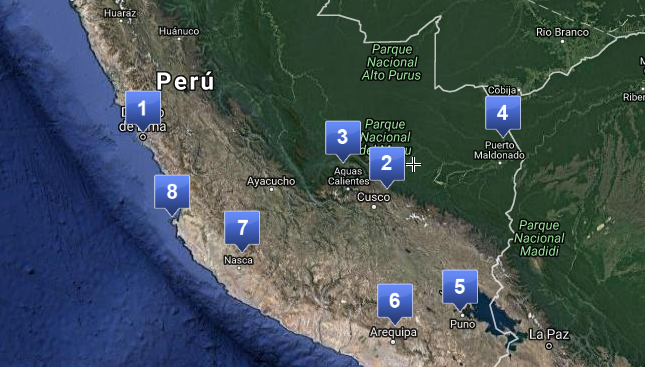 This is our initial plan in more detail:
Day 1: Lima [1]
This will be our first point of contact with Perú. We will arrive very early in the morning after a veeery long flight. The airport is around 45 minutes from the city center by taxi. We will see if there is any bus service at that hour. If not, I think we will have to negotiate the price with the taxi driver!
This day we will visit the capital city, get used to the new country and all that entails (weather, currency, people, food…) and rest a bit after the long journey! By the moment we have booked hostels only via Booking for this trip.  There are plenty of options with a good value for money and we haven't had any problems with the reservations by the moment. Plus, you can pay directly at the hostel so you don't need to worry about that before. All the accomodations we have booked cost around 20€/night (US$23) per person.
Day 2: Cusco [2]
The second day we will fly from Lima to Cusco with the LC Perú airline. This is one of the most popular airlines in Perú and it operates in every airport of the country. Due to the high influx of tourists in this area (Cusco is the city where all the trips to Machu Picchu begin), there are a lot of flight options. The bad thing is that prices are not exactly cheap. As everything, it depends on the date and the hour of the flights you choose. We will arrive in Cusco in the morning so we can start getting used to the famous altitude sickness or "soroche". We'll stay in another hotel we have found via Booking.
Day 3: Cusco [2]
The second day in Cusco we are thinking about joining an organized tour to the surroundings. Apart from Machu Picchu, this area is plenty of places to visit related to the Inca history. A good option would be going to the Tourism Office and see what they recommend us.
Day 4: Aguas Calientes [3]
This day we will leave Cusco and take the train to Aguas Calientes, which is the little town that leads you to Machu Picchu. To be honest, we thought that it would be easier to get there, but it isn't. According to the timetables, there is no transportation between Cusco and Aguas Calientes that arrive on time if you're going to do the first turn to Machu Picchu on the same day. Therefore, you need to be in this little town the day before. Also, the trains depart from Poroy, which is not exactly in Cusco and you can only get there by taxi. 
There aren't many train options either. Most of them go to near cities like Ollantaytambo and Urubamba, but just a few ones reach Aguas Calientes. Prices are quite expensive too and you can't expect less than 80€ per trip. It is practically the only option you have to go to Machu Picchu. The other options you have are, on the first hand, doing the Inca Trail (which is a 4-day trekking); or, on the second hand, taking 3 buses and then walking 2 or 3 hours. This second option has a total duration of 8h. So if you want to get there as soon as possible the only way is by the train operated by PeruRail.
Note: in their website they say that the maximum weight of the luggage to carry on in the train can't be more than 5kg. If yours are bigger, you need to contact them at least 48h prior the departure.
Day 5: Machu Picchu [3]
Machu Picchu is one of the places that we're more excited to visit. This ancient Andean town is one of the new seven wonders of the world and we will dedicate a whole day to visit it. There is a bus service from Aguas Calientes that goes to Machu Picchu every 15 minutes.
The entry costs around 70€ and there are different ticket options. For example, you can visit only the ancient town but also climb to Machu Picchu or Huayna Picchu mountain. You can find all the  possible combinations in this website. Important! You need to buy the tickets with enough time in advance (around 2 months), as they're limited per day. There are more or less places depending on which tour you want to do, and the demand is high.
After our visit to the Inca town, we will take the last train back to Cusco, arriving in the city at night.
Day 6: Cusco [2]
This will be our last day in Cusco and this area. We will take profit of this day to rest a bit and plan our next big part of the trip! We will stay 2 nights in another hotel and then head up to the Amazon jungle, where plenty of mosquitoes will be waiting for us…
So that's all from now! If you're curious about our next steps in Perú, keep an eye on the following post! 🙂
¿Te ha gustado este post? ¡Compártelo! 🙂